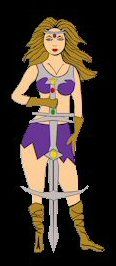 Our Mission Statement
I would like to welcome you to our website, Arizona Medieval Maidens Motorcycle Club, Central Valley I. This Charter was formed officially on July 15th, 2006. In California, the Mother Charter Medieval Maidens Motorcycle Club, Central Valley, was founded on November 4th, 2004.
I have written this introduction to help educate and inform you of who and what Medieval Maidens Motorcycle Club stands for and its vision in Arizona. This will then give those of you interested in getting to know us the opportunity to decide if becoming a Medieval Maidens MC member is right for you and for us. If you have met us, partied with us, rode with us and/or are a supporter of us then you know we are the ONLY active women's MC in the state and we get around. The members of Medieval Maidens MC have worked very hard to bring this dream into a reality. We are all a dedicated and loyal bunch of sisters who will do whatever it takes to succeed. We aren't going anywhere!
Medieval Maidens Motorcycle Club (MMMC) was formed to promote, support, educate, and advocate for women riders specifically and ALL motorcyclists in general. This "sisterhood" is an elite and respected group of women who share a passion for riding, standing up for and protecting our motorcycle rights and increasing communication and unity amongst the women riders in Arizona. We will accomplish this through any lawful means necessary.
You don't "join" MMMC. You take a walk that will take at least a year to successfully complete before you will become a member. This process has steps. You will come aboard as a guest, can progress to a hang around and then become a prospect if you meet the challenges. You will prospect for at least 6 months depending on your commitment, passion and desire. Anything else you need to know you should contact me directly through email.
RESPECT is the cornerstone of our MC. We work and play hard, but we ride even harder. Balancing this lifestyle is a challenge, but a true Maiden embraces those challenges. We all are there for each other through thick and thin remembering first and foremost "that is what a true sisterhood is about". You count on each other, unconditionally, because we are family.
The MMMC is not for those of you who want to "bar hop", socially ride, or just come and go as you like. The camaraderie and support the Medieval Maidens MC has is a bond you will never be able to duplicate. It is a lifestyle, life changing, and a life commitment.
I hope, if you are looking at us seriously, then you will take a hard look at yourself and decide if you are up to the challenge. And remember, each member brings diversity, different personalities, talents and gifts, that enhance and support our vision. If you are a strong independent woman, then start your walk. We are interested only in quality, not quantity. We would love to have the opportunity to meet and ride with you someday.
Keep on riding, living free, making a difference everyday and standing up for what you believe.
With Love and Respect
Kat, President, Medieval Maidens Motorcycle Club, Central Valley I